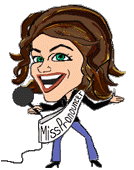 This first-of-its-kind audio pronunciation website has been online since mid-2005, long before the imitators. That's more than a decade! Wow. There have been many additions, edits, and revisions since then, and will likely be more in the future.
The idea for MissPronouncer came when I realized my need to know accurate pronunciations before delivering radio newscasts for the early show, yet there was nobody around with whom I could confer at 4:00 in the morning. Something had to be done. An idea was born.
Meanwhile, we are mobile! Finally. This site has always worked wherever an Internet connection was available, but it was cumbersome on small screens. Now, the newly-built responsive website works smoothly with your smart phone, tablet, desktop, and all other computers. We will continue to improve the site as we see fit.
Your positive comments, productive suggestions, and anecdotal stories are always welcome. Thanks for visiting. Tell your friends. On Wisconsin!
(If you find this free website useful, please consider a financial donation in any amount to help pay for hosting this site, its domain name, and the coffee consumed during the research and editing of MissPronouncer.com. See right panel. Thanks.)
---
---
Media attention
You might have seen, heard, or read about MissPronouncer on these fine media outlets.